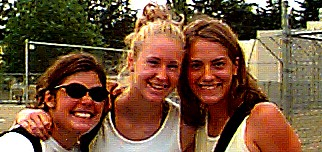 The 3 capee-tans...Allegra (00-01), Lacey (99), and Allison (97-98) together in Seattle playing for ERRFU in the 1999 North American Challange Cup...85 games and 323 points for Summit...a lot of Fun!...a lot of Leadership!

In 1997 Allison Aichinger rounded up Danielle DeGarie, Jasmine Syko, Kate Richardson, Kristy Olin, Vicky Chen, and Courtney Osborn to form the first ever Summit Rugby Team.
The team played 7's against Littleton (1-2-1) and Wheatridge (1-0) that first season, improving with every game.
The following year the girls recruited a plethora of freshman including now Summit legends Hoopingarner, Allan, Molina, Stadnyck, McLain, Beardsley, Hanavan, and Lil' A and went on to win the first ever Womens' HS National Invitational in Indianapolis. The win over Divine Savior of Milwaukee in the final was only the beginning as the two have met in 1999 (in Summit) and the last two years in the NIT semifinal.
The Team has grown into a program that has spawned a senior side and youth programs. Now all the Women's rugby is under one comprehensive program for all ages in all of Summit County.