Summit Daily Article for Summit v Southwest Denver Sept 6th
Summit Daily Article for Summit v Highlands Ranch Sept 5th
Lauren Danielsen breaks school scoring and tries scored records! Read more in the Summit Daily.
Summit Daily Article on Summit v Los Alamos Aug 30th
Summit Daily Article on Summit's opening weekend Aug 23rd
Summit Daily Preseason Article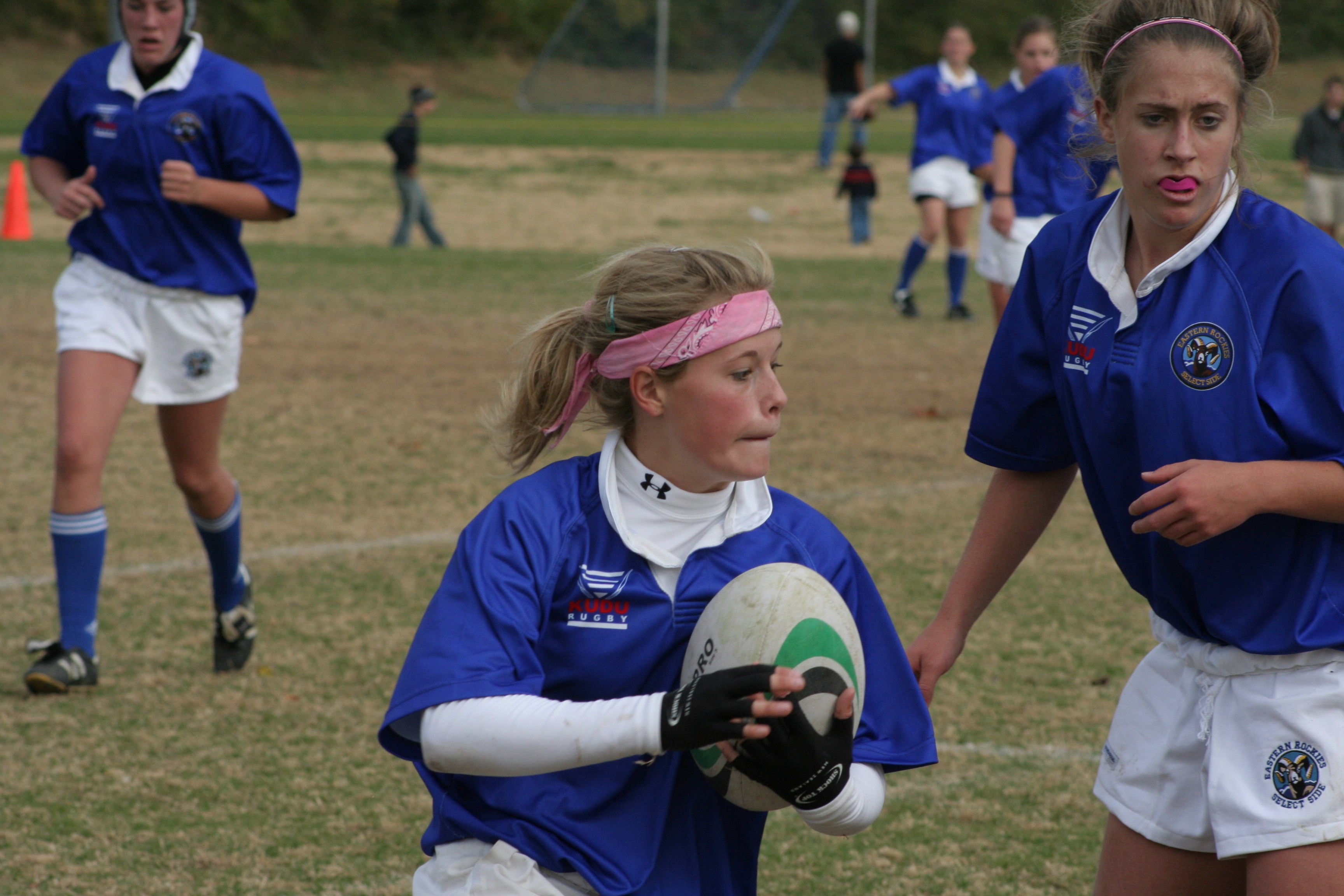 Barto at the U19 NASC
Congratulations to Lauren, Brie, and Jozy (and alumni Mal) for a great showing at the USA U-20 Camp in Coco Beach, FL over winter break!!! A good enough showing to all be named to the USA U20 squad of 24 that will represent thier country versus South Africa in June.

Also congrats go out to Bobby, Sierra, Jozy, Brie, Lauren, and Cheech, for selection to the ERRFU U19 Team. And Erin, Steph, Rosa, Lizzy, Minicoop, and Helmsy for making the ERRFU U17 squad.

Welcome to the off season. Coach Edwards is doing SAQ M,T,Th,F right after school in the weight room and Coach Y is doing T&Th mornings (conditioning, core, and some basic skills) at 630am. Halbacks & Hookers we are in the small gym Tue/Thu after school.
TIGERS HAVE TO SETTLE FOR SECOND IN STATE
The Summit Tigers Girls Rugby Team finished second in Colorado after a 10-2 season, both losses coming at the hands of Fort Collins U19. In the final, played at Infinity Park in Glendale and broadcast on MediaZone.com, Summit battled Fort Collins to an 8-8 halftime score, but to many missed opportunities saw the girls from the North take the game 22-8 and their 4th State Title in 5 years.
Summit dominated the possession and field position, but could not finish off the stout and attacking defense of Fort Collins. Fort Collins scored first on a Sadie Anderson penalty kick, but the Tigers quickly moved into the other end and scored of a nicely worked penalty play which ended with a driving maul that saw captain Lauren Danielsen touch down for the 5-3 lead. Although they again moved deep into the Fort Collins end the girls in Black and Gold stood their ground and twice held the Tigers on the goaline. A clearing kick that was lost in sun resulted in a change of ends and Collins worked the ball down the right touch line before centre Maddie Robinson out raced the cover defence to the left for the score and an 8-5 lead. Summit resumed it's attack but could not get fast enough ball to finish of a number of good half breaks. Eventually the Tigers earned a penalty and Danielsen slotted the kick to tie the game.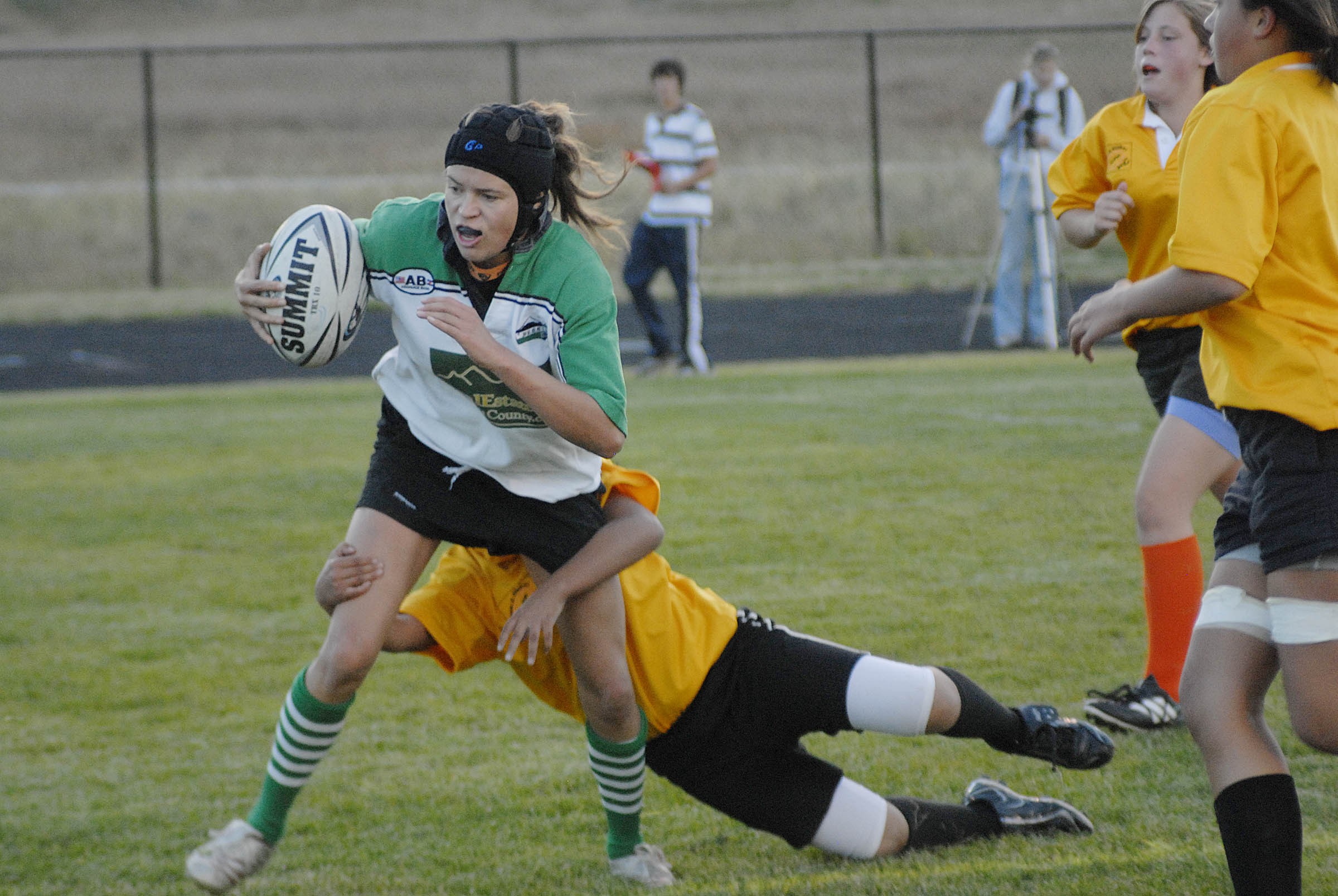 Photo by Mark Fox (Summit Daily)
Summit Fires on All Cylinders in Big Homecoming Win
The Lady Tigers opened homecoming with a big win at Tiger Stadium Friday night behind junior captain Lauren Danielsen's 26 points and sophomore BrieAnna Barto's 25 point night. The Tigers, playing in front of over 300 hometown fans, opened the scoring quick with Danielsen's first try just seconds into the match from a turnover deep in Los Alamos' end. The Summit girl's continued to apply pressure on the visitors and added two tries by Barto, one by junior Lizzy Shay and Danielsen's second, all in support of long runs by standout junior openside Jozy Gessner. Gessner, who dominated the breakdowns and was constantly finding gaps in the defense, added her own with a great line off Danielsen, shortly there after and another Barto conversion made it 36-0. Barto, who attempted two drop goals, added her third try shorty before halftime for a 41-0 Summit lead. Barto's first drop was just wide while the second was blocked and scooped up by Liz Dinkle, who was off but a great tackle by freshman fullback Hiedi Gruber and some scrambling defense snuffed out the surge.
The second half saw more of the same, Los Alamos continued to win their restarts and make tackles, but the Tigers still found gaps in the defense pattern and attacked them. Danielsen added two more tries and Gessner one, while freshman Alex Cooper and sophmore Stephany McDowell each scored their first tries for Summit. Final score 81-0.
Next up for the Tigers, undefeated Fort Collins.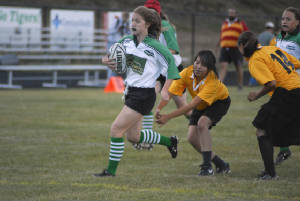 Photo by Mark Fox (Summit Daily News)
TWO UP, TWO DOWN
The Lady Tigers kept the season rolling with a win on Saturday, despite an excellent start from a very good Thunderridge side. The visiting Grizzlies shocked the home team and the crowd by racing out to a 12-0 lead on two very long tries by pacy winger Natalie Willis, but lead by junior captain Lauren Danielsen the Tigers clawed back into the game. Danielsen, who scored 3 of Summit's 5 tries, scored from a nice pick and drive after sophomore halfback Brie Barto was tackled short off the line. Danielsen look good for her second try after Summit took one against the head but it was ruled a double placement and the Grizlies looked to clear with a quick tap but only found USA U19 flanker Jozy Gessner and on the turnover Danielsen left no question as she powered over for a try and closed the gap to 12-10 for Summit.
The second half saw more of the same as Barto pressured the Thunderridge halfback and Gessner and fellow flanker Alison Johnston turned ball at the breakdown. Danielsen took a great angle ball from Gessner off a turnover at the Grizzlies 22, fended the fullback and glided in for her third try and a Summit lead. Summit added two more scores from prop Bobby Bouchard of a nicely worked lineout move and Gessner after a great run by Danielsen. The visitors added a late try for a final score of 25-17.
The Tigers (2-0), who got solid play from the whole tight 5 and backs Cheyenne Spaulding and Halley Armstrong also put in very strong performances. Are off this week before hosting Los Alamos (NM) on Friday the 21st at 5pm in the stadium.
ARE YOU READY FOR SOME RUGBY !?!?!
The Tigers opened the 2007 campaign, Friday night before a enthusiastic but rain dampened crowd, against the Chaparral Wolverines at Tiger Stadium. The Summit girls controlled much of the first half but only came away with a 7-0 lead thanks to a try from captain Lauren Danielsen. The points came when hooker Kelly Berger stole the ball on a Chaparrral scrum and halfback BrieAnna Barto drew the defense before passing to Danielsen who broke the line just inside the 22 and then powered out of Chaparral fullback Devyn Lane's goal line tackle. Barto added a drop goal conversion for the 7-0 lead. The Tigers continued to control the possession and field position, but a strong Chaparral defense, led by #8 MacKenzie Lewis, and wet conditions led to too many handling errors and no more points.
The second half saw more courageous defense by Chaparral and some great play by Berger, Barto, Danielsen, and freshmen Rosa Foth (flanker) and Alex Cooper (center). The hometown girls added two more tries by Danielsen and wing Halley Armstrong behind some solid, hardworking play by locks Marie Oberieter, Abby Urias, prop Danielle Crangle, and flanker Alison Johnston. Armstrong capped of a great team try when she reached out to ground the ball in the corner with a nice over her head move. The build up sawthe backs work a nice dummy runner before Danielsen moved the ball the Cooper who found Foth inserting, drawing the defense, and putting Armstrong into space to race the cover to the corner.
Summit Daily Sports Editor Devon O'Neil previews the 2007 Lady Tigers
The Summit Green Team bested the Summit White Team 22-15 Friday night in a preseason scrimmage. Led by senior #8 Sierra Fairfield-Smith's game winner the Greens overcame a 2 try performance by USA U17/19 flanker Jozy Gessner who packed down at 8 and captained the Whites. The white team, who struggled with continuity early on, also got a try from sophomore halfback Brie Barto. The Greens found their rythym earlier under the leadership of junior standoff Lauren Danielsen, Fairfield-Smith, and senior hooke Kelly Berger. Flanker Rosa Foth, halfback Michelle Helms, and centre Alex Cooper all touched down for Green and Danielsen added a conversion.
Summit wins 2006 State Title
It was a gorgeous night at Regis stadium and the Summit faithful (cowbells and body paint) that travelled to Denver was rewarded with a thrilling final game and result. The #3 ranked Tigers rode a pair tries by powerful senior Mallory Ives and the accurate boot of centre Whitney Degerberg past the 3 time defending champions 15-14. The top seeded and undefeated Fort Collins team led by ERRFU captain Ali Kosakowski and the always dangerous USA U19 Sadie Anderson (2 tries and 2 conversions) made a late charge but the Tigers held firm and took the title.
Ives started the scoring when she powered in from a goaline ruck that was set up by a scintilating 45 meter run by flyhalf Danielsen. Soon thereafter Degerberg burried a 35 meter penalty from just inside the touchline. The penalty came at the end of a wonderfully worked backline move of a midfield lineout. After two brilliant Anderson tries the Summit girls regained the lead for good when Degerberg forced a turnover after an up and under and Ives finished the movement for her second try of the game. Degerberg calmly slotted the conversion and Summit held on for it's first State Championship since 2002 (1998 and 1999 also).
The Tigers needed Degerberg's boot to slip by both #2 Thunderidge (11-8) and #6 Douglas County (10-7) to make it to the Colorado Cup final.